Ben's Toy
We found Ben's 76 Bronco in a barn, only 1/2 mile from our house, in December of 1999. At this point it hadn't been registered since 1984. It was in pretty sad shape! In the time since then we have managed to get it running, and do the body restoration. It has been left stock for the most part, aside from the 2" body lift, cut out wheel wells with fender flares and the 33" tires. We still have some work to do on the interior, but it is almost ready to go, and should be by the time Ben gets his lisence. The drivetrain is the original 302ci. V8 with a 2barrell carb, and a 3spd manual tranny, for which we installed a floor shift
Our Machines
This is a pic of us with our trucks. Ben is on the left in front of his 76 Bronco, Jonathan is on the right in front of his 86, as well as adding a new toy seen below, and that leaves Bob in the middle, in front of his, well let's not elaborate.
JONATHAN'S TOYS
We found Jonathan's 86 on a used car lot in Bow, NH., in September of 98. It was in pretty good running condition, but the body was starting to go. After running it that way for about a year, we decided to go to work on it. We replaced the front fenders, cut out the rear quarters and welded new ones in. Then we installed lower skins on the doors and tailgate. After repainting it to it's original color, it looks pretty decent. Jonathan has added stainless steel tubular steps, and a nice sound system, including a Sony deck with cd player, a mini disc changer, a 500 watt amp and 2- 15" subwoofers. The drivetrain is a fuel injected 302 ci., with the automatic overdrive tranny.

His new truck is a 78 Bronco Ranger XLT, with a 351 w/4bbl Holley, Headers, C6 tranny, 7" lift, 35x14.5 tires, 4.56 gears, and a custom interior with hardwood floor in back. The stereo system was transplanted from the 86.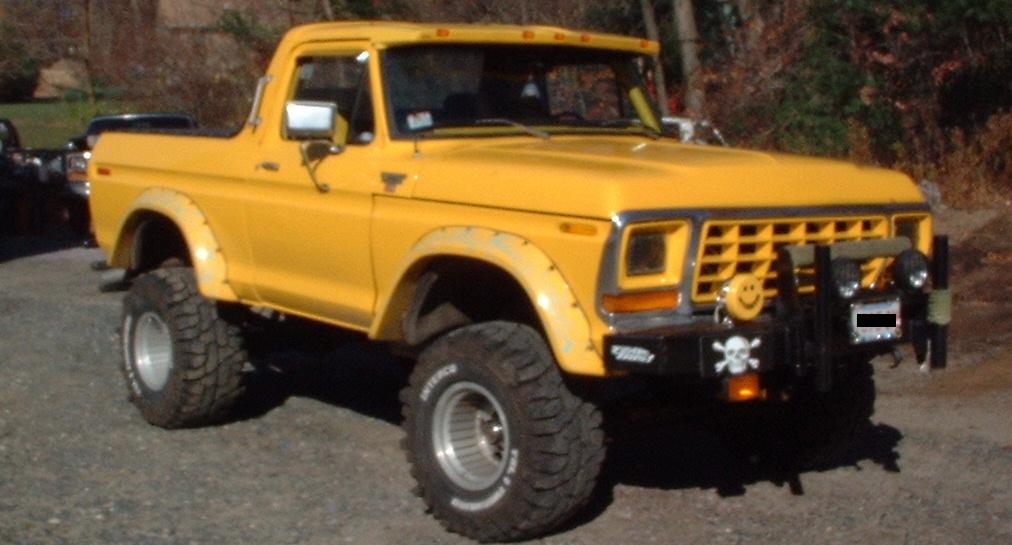 Jonathan's 78 Bronco
This 78 is a real strong running truck that can climb over almost anything.